Wow! I saw lots of butterflies in my garden this afternoon. At least its a lot for where I live. There were 4 large butterflies flying all close to the same time. Three swallowtails were all out there at the exact time even.
And – the best part – a butterfly I've only just previously seen fly through quickly and leave: a Zebra Swallowtail! You might remember that I mentioned seeing Zebra caterpillars recently when we were walking around at Shaw Nature Reserve. We had just gotten back from getting groceries and I went back to close the door and saw it right outside on some purple cone flowers. I ran back in and got the camera, but it wasn't there. I walked all through the yard in the back and everything and thought for certain it had left – but then I found it! I got few pictures of it that were pretty good, they don't like to hold their wings still though, so it isn't easy.
It eventually started nectaring way high up on a white butterfly bush of mine. It seemed to prefer it over the purple ones.
Here it is on some rattlesnake master: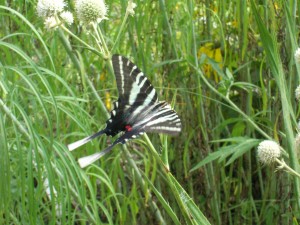 And now on the butterfly bush: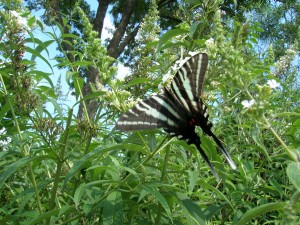 And then while I was still watching the Zebra, a yellow form Tiger Swallowtail and a dark form Tiger Swallowtail flew into my garden and starting nectaring on my plants: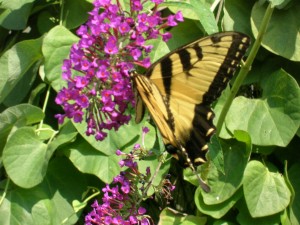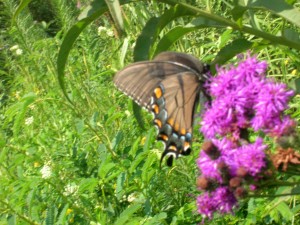 And a little while after that a Monarch stopped by. It first was nectaring on my Iron Weed then resting on some pipevine where I was able to get a good picture of it: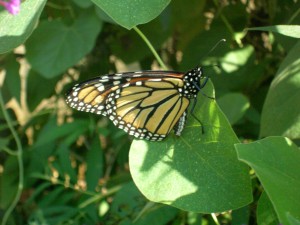 A little later I also saw a Buckeye in my husbands 'Zen' garden area: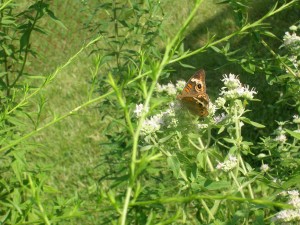 It was awfully hot out there though and I started getting a big overheated and had to come in, last I saw that Zebra Swallowtail was still there. It had to have been out there at least a half an hour. Definitely the longest I've ever seen one in my garden!