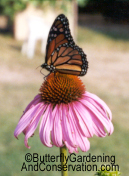 Purple Cone Flower with Monarch.
Purple Cone Flower is native to much of the US and is a great attractor of butterflies. Grows up to 3 feet tall and blooms from May to August. It is hardy and likes clay and dry soils. Prefer full sun. Seeds are loved by Gold Finches also.
Where to buy Purple Cone Flowers
Local nurseries will most likely sell these but may not have many varieties to choose from.

If you are looking for an online site to buy from I highly recommend Nature Hills Nursery. Their perennials cost a bit more but they are grown in 4'' x 6'' air-pruned pots that results in healthier plants with a highly developed root mass! The price is reduced however, if you buy more plants. Nature Hills also has a free plant and seed catalog that they will mail out to you.



Nature Hills sells many varieties of cone flowers - all great for butterflies!

You can read more about these different varieties on the Nature Hills Nursery site to either order, read more information about coneflowers or see more detailed pricing information. You can also order by calling 1-888-864-7663 using the Source ID: 86642:

Purple Coneflower (Echinacea purpurea),
Purple Coneflower (Echinacea purpurea) 'Magnus',
Purple Coneflower (Echinacea purpurea) 'Kim's Knee High',
White Coneflower (Echinacea purpurea) 'White Swan'.
The Aster Family
Blanket Flower is a member of the Aster Family. These are herbs, shrubs, vines or sometimes even trees. There are 20,000 different species in the Aster family, made up from 1100 genera. Well known members of this family include Sunflowers, Zinnias, safflower and many kinds of lettuce.
Butterfly Gardening Home | Butterfly Gardening Articles | Butterfly Species | Plants | Butterfly and Gardening Shopping | T-shirts | Mugs | Magnets | Clocks | Tote Bags | Framed Tiles | Notebooks | Postcards | Light Switch Covers | Tile Coasters | Calendars | Butterfly Calendars | Resources | Contact | Blog |
[old blog] |


© 2003 - 2023 ButterflyGardeningAndConservation.com

Today is: 27 September 2023, 9:50 am