| Introduction |
| Butterfly Gardening |


Swallowtails
Sulfurs/Whites
Brushfooted
Little
Snout


Host
Nectar



T-shirts
Mugs
Magnets
Clocks
Tote Bags
Framed Tiles
Notebooks
Postcards
Light Switch Covers
Tile Coasters


Books
Web Sites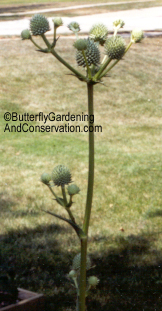 Rattlesnake Master.
Rattlesnake Master is a good native nectar source for butterflies. Grows up to 4 feet, blooms July to August.
Where to buy Rattlesnake Master
Native plant nurseries
The Apiaceae Family
Rattlesnake Master is a member of the carrot or Apiaceae Family. There are around 300 genera and 3000 species of plants in this family. They are mostly herbs with hollow stems and small flowers. Many important food plants are members of the carrot family. They include carrots, parsnips, celery, cilantro, caraway, anise, Parsley and dill. There are also a few members of this family native to the US which are very poisonous.


Butterfly Gardening Home | Butterfly Gardening Articles | Butterfly Species | Plants | Butterfly and Gardening Shopping | T-shirts | Mugs | Magnets | Clocks | Tote Bags | Framed Tiles | Notebooks | Postcards | Light Switch Covers | Tile Coasters | Calendars | Butterfly Calendars | Resources | Contact | Blog |
[old blog] |


© 2003 - 2023 ButterflyGardeningAndConservation.com

Today is: 27 September 2023, 9:24 am