| Introduction |
| Butterfly Gardening |


Swallowtails
Sulfurs/Whites
Brushfooted
Little
Snout


Host
Nectar



T-shirts
Mugs
Magnets
Clocks
Tote Bags
Framed Tiles
Notebooks
Postcards
Light Switch Covers
Tile Coasters


Books
Web Sites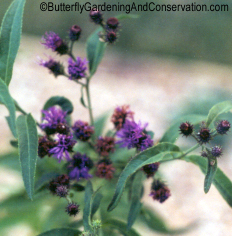 Iron Weed.
Iron Weed can grow as tall as 3-6 feet. Purple flowers bloom from August to October. Native to much of the US. Butterflies are attracted to it.
Where to buy Iron Weed
Native plant nurseries.
The Aster Family
Blanket Flower is a member of the Aster Family. These are herbs, shrubs, vines or sometimes even trees. There are 20,000 different species in the Aster family, made up from 1100 genera. Well known members of this family include Sunflowers, Zinnias, safflower and many kinds of lettuce.



Butterfly Gardening Home | Butterfly Gardening Articles | Butterfly Species | Plants | Butterfly and Gardening Shopping | T-shirts | Mugs | Magnets | Clocks | Tote Bags | Framed Tiles | Notebooks | Postcards | Light Switch Covers | Tile Coasters | Calendars | Butterfly Calendars | Resources | Contact | Blog |
[old blog] |


© 2003 - 2023 ButterflyGardeningAndConservation.com

Today is: 27 September 2023, 8:33 am