| Introduction |
| Butterfly Gardening |


Swallowtails
Sulfurs/Whites
Brushfooted
Little
Snout


Host
Nectar



T-shirts
Mugs
Magnets
Clocks
Tote Bags
Framed Tiles
Notebooks
Postcards
Light Switch Covers
Tile Coasters


Books
Web Sites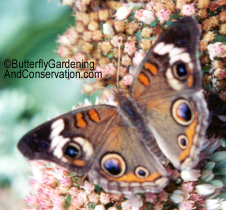 Buckeye butterfly on Sedum.


Buckeyes migrate from the southern US and Mexico to most of the rest of the US in the summer. Host plants are many and include Gerardia, Plantain - (Plantago lanceolata) and Snapdragon (Antirrhinum majus).

Eggs are dark green, laid singly on leaves.


I have yet to see any Buckeye butterfly eggs or really small caterpillars. I have had caterpillars a couple of different times though.

Here is one sort of from overhead and the other picture is from a different angle, kind of from the side: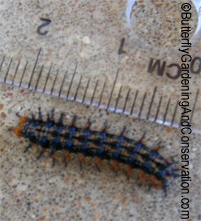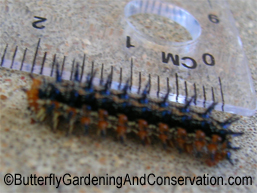 Adults feed on flower nectar and possibly rotting fruit.
Adult with wings open on Sedum.
Butterfly Gardening Home | Butterfly Gardening Articles | Butterfly Species | Plants | Butterfly and Gardening Shopping | T-shirts | Mugs | Magnets | Clocks | Tote Bags | Framed Tiles | Notebooks | Postcards | Light Switch Covers | Tile Coasters | Calendars | Butterfly Calendars | Resources | Contact | Blog |
[old blog] |


© 2003 - 2023 ButterflyGardeningAndConservation.com

Today is: 27 September 2023, 8:36 am