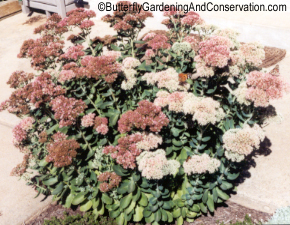 Sedum.
Sedum is a great butterfly attractor. Where I live it blooms late summer/fall when not as many other nectar sources are available. Grows to 18 in. high. Some species are shorter, some grow more like vines.
Where to buy Sedum
Many nurseries sell it. I recommend Nature Hills Nursery for an online source. Their perennials cost a bit more but are larger, healthier plants with a highly developed root mass! The price is reduced if you buy more plants. Nature Hills also has a plant and seed catalog that they will mail out to you.

You can read more information about different varieties of Pin Cushion flowers at the Nature Hills Nursery site or order them. You can also order by calling 1-888-864-7663 using the Source ID: 86642:

Sedum 'Autumn Joy'/'Herbstfreude'
Sedum spurium 'Elizabeth Red Carpet'
Sedum 'Frosty Morn'
Sedum 'Matrona'
Sedum spectabile 'Neon'
Sedum 'Purple Emperor'
Sedum 'Vera Jameson'

The Stonecrop/Crassulaceae Family
Members of this family are succulent herbs or shrubs, with 25 genera and 900 species. Jade Trees and Kalanchoe are other members of this species. Many in this family can reproduce by having small parts of the plants fall off and start new plants.
Butterfly Gardening Home | Butterfly Gardening Articles | Butterfly Species | Plants | Butterfly and Gardening Shopping | T-shirts | Mugs | Magnets | Clocks | Tote Bags | Framed Tiles | Notebooks | Postcards | Light Switch Covers | Tile Coasters | Calendars | Butterfly Calendars | Resources | Contact | Blog |
[old blog] |


© 2003 - 2023 ButterflyGardeningAndConservation.com

Today is: 27 September 2023, 8:46 am