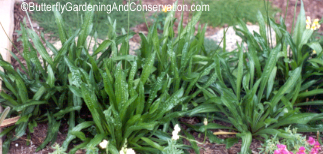 Patch of Plantain.
Plantain is not native to the US, it is originally from Europe, but it still grown by many butterfly gardeners to attract Buckeye butterflies.
Plantain is a Host Plant for Buckeye butterflies
Buckeye Butterflies use Plantain and Snapdragon as host plants.
Where to buy Plantain
Sand Mountain Herbs
The Plantain/Plantaginaceae Family
The Plantain Family are herbs consisting of 3 genera and 250 species.
Butterfly Gardening Home | Butterfly Gardening Articles | Butterfly Species | Plants | Butterfly and Gardening Shopping | T-shirts | Mugs | Magnets | Clocks | Tote Bags | Framed Tiles | Notebooks | Postcards | Light Switch Covers | Tile Coasters | Calendars | Butterfly Calendars | Resources | Contact | Blog |
[old blog] |


© 2003 - 2023 ButterflyGardeningAndConservation.com

Today is: 28 November 2023, 4:18 pm