I contacted the Fenton Garden Club recently and asked them about joining. They invited me to their next meeting which was scheduled to be at Shaw Nature Reserve, today. So I went and had a great time!
I just wish I would have thought to take more pictures than I did!
All the pictures can be clicked on to see a bigger version.
The guide we had for the tour was James, who was extremely knowledgeable about the wildlife at Shaw. He was also very patient with all my (and everyone else's) questions!
This first picture is of Indian Paintbrush (Castilleja coccinea). I believe that is the right scientific name, correct me if I'm wrong. It was growing in one of the prairie areas.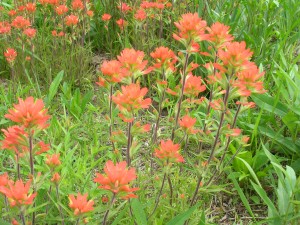 This next picture was taken as we were walking into the wildflower garden. In it you can see a beautiful pink dogwood, some yellow senecio flowers and the pale purple flowers of phlox divaricata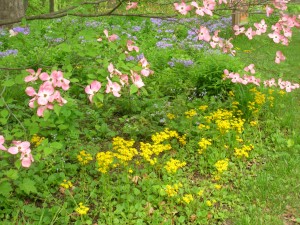 Here is a picture of mostly phlox, I think phlox divaricata, with a little bit of rose verbena (Glandularia canadensis) in front: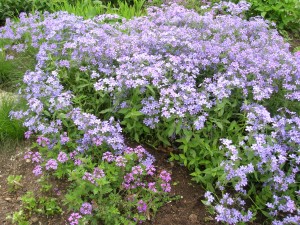 I have a habit of taking pictures of signs so that I can read the information on them later. They had a good one about bees. I wish I could identify more of the bee and bee-like species around my garden.
This sign mostly caught my attention because of the little frog on it – it was so cute: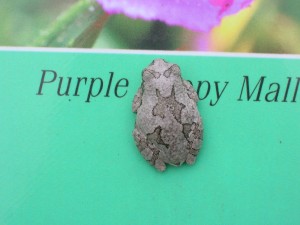 I learned something new about honey bees from this part: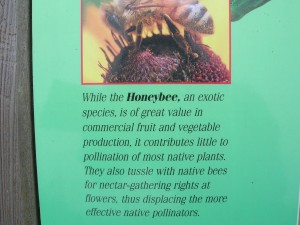 There was also a very informative sign about tall grass prairies. I couldn't get all the text in one picture though, so you will have to read part of it in the second picture: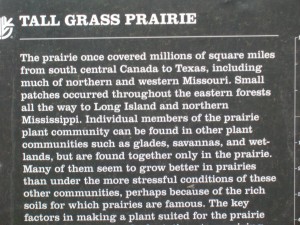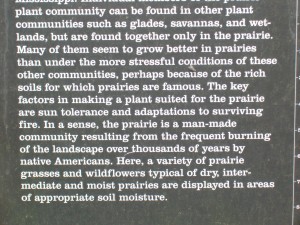 Around that time it was getting late and we had to leave.
Thank you garden club members for letting me tag along!
If you want to see more pictures of Shaw, I wrote a few posts last year from when I visited:
Shaw Nature Reserve Part 1 – Butterflies
Shaw Nature Reserve Part 2 – Prairie
Shaw Nature Reserve Part 3 – More butterflies
Shaw Nature Reserve Part 4 – Serpentine wall
Shaw Nature Reserve Part 5 – Prairie flowers
Shaw Nature Reserve Part 6 – Frog
Shaw Nature Reserve Part 7 – Wetland
Shaw Nature Reserve Part 8 – More prairie flowers
Shaw Nature Reserve Part 9 – Dodder (Cuscuta)
Shaw Nature Reserve Part 10 – Milkweed bugs!
Shaw Nature Reserve Part 11 – As we were leaving …