| Introduction |
| Butterfly Gardening |


Swallowtails
Sulfurs/Whites
Brushfooted
Little
Snout


Host
Nectar



T-shirts
Mugs
Magnets
Clocks
Tote Bags
Framed Tiles
Notebooks
Postcards
Light Switch Covers
Tile Coasters


Books
Web Sites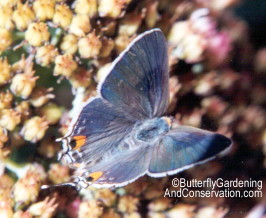 Gray Hairstreak
with wings open on Sedum
Gray Hairstreaks are small butterflies. They use quite a few different plants as host plants including
Lead Plant - Amorpha canescens,
White Clover - Trifolium repens,
Hops - Humulus Lupulus and
Partridge Pea - Chamaecrista/Cassia fasciculata.

Eggs are light green and laid singly on host plants.


I found this and several other Gray Hairstreak caterpillars on my Partridge Pea plants.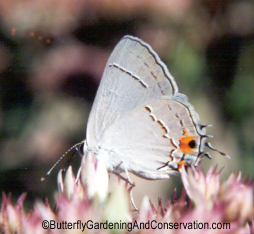 Adult with wings closed, which is how you usually see them.
Butterfly Gardening Home | Butterfly Gardening Articles | Butterfly Species | Plants | Butterfly and Gardening Shopping | T-shirts | Mugs | Magnets | Clocks | Tote Bags | Framed Tiles | Notebooks | Postcards | Light Switch Covers | Tile Coasters | Calendars | Butterfly Calendars | Resources | Contact | Blog |
[old blog] |


© 2003 - 2023 ButterflyGardeningAndConservation.com

Today is: 27 September 2023, 8:40 am