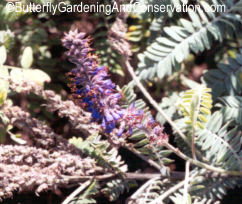 Lead Plant bloom.
Lead Plant is a native perennial that flowers from May to August. It can grow to be between 1 and 3 feet high, with roots as much as 4 feet deep.
Lead Plant is a Host Plant for the Dogface sulfur and Gray Hairstreak
The Gray Hairstreak uses a number of different plants as hosts, including the Lead Plant and Partridge Pea. The Dogface sulfur uses Lead Plant, False Indigo (Amorpha fruticosa) and Purple Prairie Clover.
Where to buy Lead Plant
Local native nurseries are the best place to look for this plant.
The Pea/Fabaceae Family
Lead Plant is member of the Fabaceae Family. This is a large family consisting of 640 genera and 17,000 species. Members of this family include peas, beans, soybeans, lentils, alfalfa and many clover species.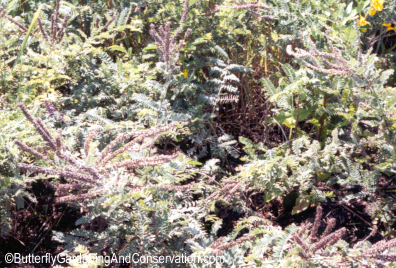 Patch of Lead Plant.
Butterfly Gardening Home | Butterfly Gardening Articles | Butterfly Species | Plants | Butterfly and Gardening Shopping | T-shirts | Mugs | Magnets | Clocks | Tote Bags | Framed Tiles | Notebooks | Postcards | Light Switch Covers | Tile Coasters | Calendars | Butterfly Calendars | Resources | Contact | Blog |
[old blog] |


© 2003 - 2023 ButterflyGardeningAndConservation.com

Today is: 27 September 2023, 9:18 am