We saw all sorts of other wildlife while at the Virgin Islands too: reptiles, birds. fish, turtles, etc.
We especially saw lots of iguanas! There were some at the resort we stayed at and we saw a lot at Coral World too.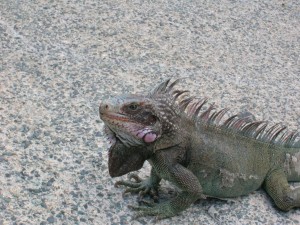 There were some other lizards there too – I don't know what species they are. I suspect the one is either the same as those you see in Florida everywhere or at least a similar species: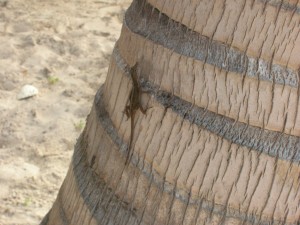 But then we saw this type too, at Coral World: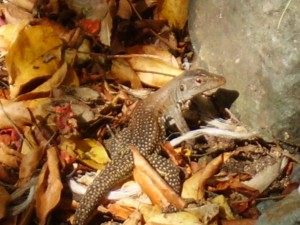 Also at Coral World we saw green sea turtles (Chelonia mydas) and some Red-Footed Tortoises (Geochelone carbonaria). Red-Footed Tortoises were brought to the Virgin Islands hundreds of years ago from South America.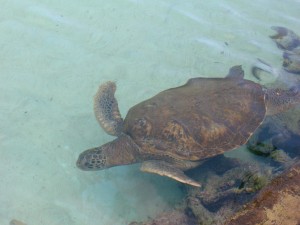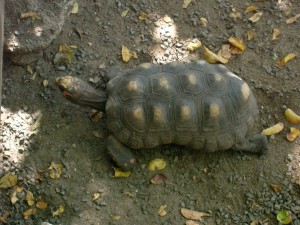 They also had lorikeets which are nectar-eating birds. I don't think they are native to the Virgin Islands, but they were really pretty. You could buy little cups of nectar for them and they land all over you to feed!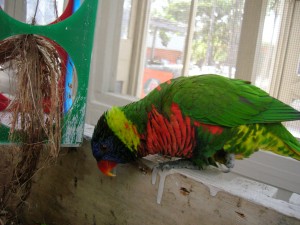 At St. John we saw this really pretty hermit crab – it was really close to the road and we were afraid it would get ran over. We realized afterward that we had no idea which way it was trying to go so we put it back where we found it: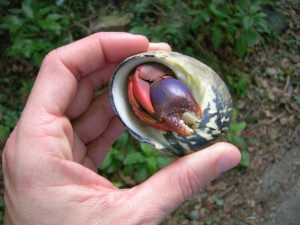 At Bolongo Bay Beach (where we stayed) we saw some cute little crabs early in the morning running in and out of little holes in the sand. I managed to get one to sit still long enough to get a good picture of it: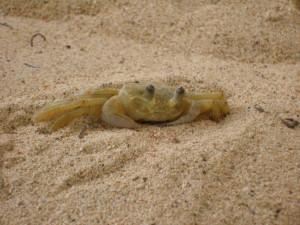 Altogether it was a very nice vacation! I hope to go again someday, do some more snorkeling and hopefully see more butterflies!