I found a Black Swallowtail caterpillar on my Golden Alexanders!
My understanding had been that if any Swallowtail in this area were to use Golden Alexanders (Zizia aurea) it would be only the Woodland Swallowtail (Papilio joanae) – but others sources seem to doubt that P. joanae is really a separate species anyway. Up until now I never saw any caterpillars on the plants. I did for the first time recently see an adult looking as though she was interested in laying on them however, but I didn't find any eggs.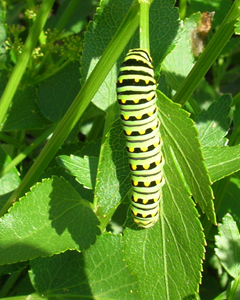 Now, as I was trying to find a truly native host plant for Black Swallowtails, I bought a Yellow Pimpernel (Taenidia integerrima) plant last year for my garden. Earlier this spring I found an egg on it, and later a first instar larvae, which of course I would assume would be a Black Swallowtail (P. polyxenes). I didn't really keep track of it to see how it was doing – but have been very excited to have found a native host plant for them that they will actually use!
Anyway, on Friday, I looked over at the Yellow Pimpernel plant, which incidently is right next to the Golden Alexanders, and saw two caterpillars on it! The larger of the two was towards the base of the plant and kind of hidden from view: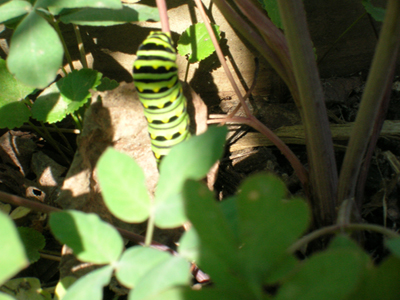 Then, I look up, and towards the top of the plant – on a stem that already had all its leaves eaten off I see another caterpillar! Only this one was in the process of molting. The first pictures I tried to take as it was actually molting were all out of focus. Apparently this camera had a hard time figuring out what to focus on and it doesn't have a manual focus so there was nothing I could do. I eventually put my hand up behind the caterpillar and then it focused just perfectly! By that time it was done molting but it was still a cool picture – its head is still white and if you look closely you can see the dead skin behind it, mostly behind the stem it is on: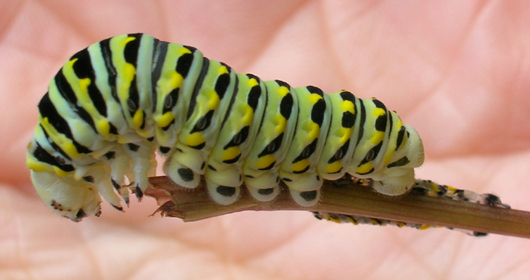 The whole thing left me wondering though – were the caterpillars on the Golden Alexanders P. polyxenes or joanae?
(Technorati Tags: butterfly, caterpillar, Black Swallowtail, Papilio joanae, Papilio polyxenes, Taenidia integerrima,)