I recently spent a week at the U.S. Virgin Islands, on St. Thomas and St. John. I had really been hoping to see lots of butterfly species that I can't see where I live.
Sadly, I ended up quite disappointed. I didn't see many butterflies at all.
I did see quite a few Zebra Longwings at St. John – which was the first time I've ever seen one in person, or at least in the wild. I wasn't able to get any pictures though – they were moving around way too fast!
I saw a Gulf Fritillary on St. Thomas – a first for it too, and was able to get a couple of pictures: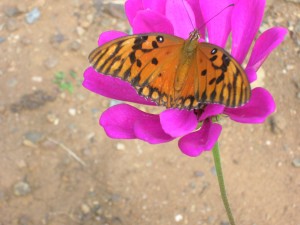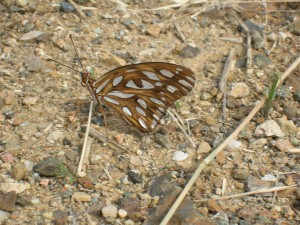 I saw this little guy at St. John – could this be a Tropical Checkered Skipper (Pyrgus oileus)? :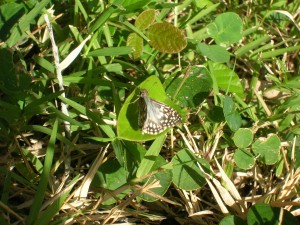 Otherwise I only saw a Monarch now and then, and a white or sulfur fly by on occasion. I think if we could have spent more time at St. John we may have seen more, I don't know.
I did see some caterpillars, host plants and some other wildlife at the Butterfly Farm at St. Thomas – more about that next week!