I got my WordPress updated and the problems fixed! I added some plugins and generally fixed this blog up a bit too.
It's been rainy and cold and cloudy here the past few days. And muddy. So I haven't been out to the garden too much.
I have pictures of caterpillars taken a few days ago. Below is a Monarch baby from the eggs laid on Earth Day and shown here: First Monarch Sighting!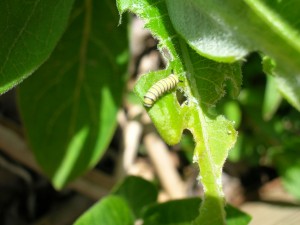 Unfortunately my digital camera doesn't let me focus on small objects – it was just luck I was able to get this one in focus. Couldn't get it at a different angle though.