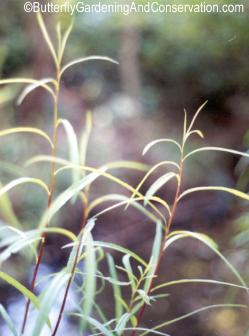 Sandbar Willow.
Sandbar Willow is also known as Coyote Willow or Narrowleaf Willow. It is a thicket forming shrub that sometimes grows bigger and into a tree. It has very narrow leaves. Native to large portions of N. America. It is very hardy, can grow along streams and is drought resistant.
Viceroys and Red-Spotted Purples use various species of Willows as host plants, including Salix exigua
Where to buy Sandbar Willow
I have yet to find a place to buy this plant. I found some growing wild nearby and took cuttings to start my own.
How to Propagate Sandbar Willow
Can be started from cuttings fairly easily.
The Salicaceae/Willow Family
The Willow family is made up of trees and shrubs, of about 350 total species. The genus Salix tends to grow in wet soil. Many willows can be used to help prevent soil erosion.
Butterfly Gardening Home | Butterfly Gardening Articles | Butterfly Species | Plants | Butterfly and Gardening Shopping | T-shirts | Mugs | Magnets | Clocks | Tote Bags | Framed Tiles | Notebooks | Postcards | Light Switch Covers | Tile Coasters | Calendars | Butterfly Calendars | Resources | Contact | Blog |
[old blog] |


© 2003 - 2023 ButterflyGardeningAndConservation.com

Today is: 27 September 2023, 9:12 am