| Introduction |
| Butterfly Gardening |


Swallowtails
Sulfurs/Whites
Brushfooted
Little
Snout


Host
Nectar



T-shirts
Mugs
Magnets
Clocks
Tote Bags
Framed Tiles
Notebooks
Postcards
Light Switch Covers
Tile Coasters


Books
Web Sites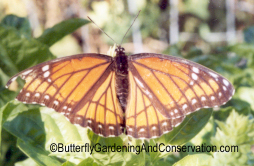 Viceroy.
The Viceroy is a mimic of the Monarch so it is less bothered by predators than many other butterflies. It has a wingspan of up to 7cm or so. Their range covers all of the eastern US, much of eastern Canada and some north western states.

Host plants include Willows: Sandbar Willow (Salix exigua), Salix sericea, Black Willow - Salix nigra, Pussy Willow (Salix discolor), Salix caroliniana and others.

Eggs are pale green or yellow and laid singly on the top of leaves.

Adults sip flower nectar for food, but also like rotting fruit and dung. The ones I've seen in my garden seem to prefer rotting bananas over flowers.
Adults from side, feeding from hanging rotting banana.
More pictures:
Butterfly Gardening Home | Butterfly Gardening Articles | Butterfly Species | Plants | Butterfly and Gardening Shopping | T-shirts | Mugs | Magnets | Clocks | Tote Bags | Framed Tiles | Notebooks | Postcards | Light Switch Covers | Tile Coasters | Calendars | Butterfly Calendars | Resources | Contact | Blog |
[old blog] |


© 2003 - 2023 ButterflyGardeningAndConservation.com

Today is: 27 September 2023, 9:09 am