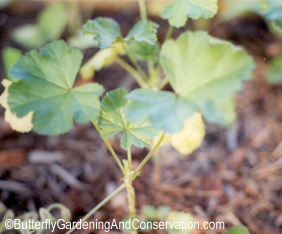 Malva plant before blooming.
Malva is a biennial in most parts of the US. It has large showy blooms similar to Hollyhock. Likes full sun and is very hear tolerant. Grows to 2.5 feet tall.
Malva is a Host Plant for Painted Lady butterflies
Painted Lady butterflies use many different plants as host plants, including Hollyhock, Malva and Borage.
Where to buy Malva
Burpee and many other places sell Malva sylvestris seeds.
The Malvaceae/Mallow Family
Malvaceae is comprised of around 80 genera with 1000 species. Three hundred of these are of the genus Hibiscus. Cotton/Gossypium, Hollyhock, Malva and Okra are other well known members of this family.
Butterfly Gardening Home | Butterfly Gardening Articles | Butterfly Species | Plants | Butterfly and Gardening Shopping | T-shirts | Mugs | Magnets | Clocks | Tote Bags | Framed Tiles | Notebooks | Postcards | Light Switch Covers | Tile Coasters | Calendars | Butterfly Calendars | Resources | Contact | Blog |
[old blog] |


© 2003 - 2023 ButterflyGardeningAndConservation.com

Today is: 27 September 2023, 8:44 am