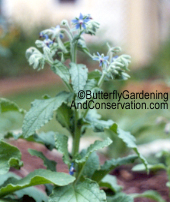 A Borage plant.
Borage is an herb of the family Boraginaceae. Plants of the Borage family can be found all temperate and subtropical areas. There are about 2000 different species of plants in the borage family.

Borago officinalis can grow to be about 18 in. in height. Its flowers are a pretty blue color and kind of hang upside down like. Needs sun to part sun. It is an annual. It gets bristlely hairs on the stems and leaves, which may be irritating to some people. Young leaves are edible. I'm not certain, but I don't believe it is native to the US.


Borage is used as a host plant by Painted Lady butterflies
Painted Lady (Vanessa cardui) butterflies will use Borage as a host plant. They make nests within it by connecting the leaves together with silk.
Where to buy Borage.
I bought mine as seeds from Burpee. They were pretty easy to germinate and grow. The seeds take 14-21 days to germinate.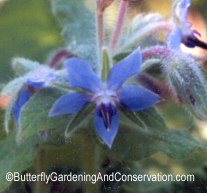 A bloom on a Borage plant.
Butterfly Gardening Home | Butterfly Gardening Articles | Butterfly Species | Plants | Butterfly and Gardening Shopping | T-shirts | Mugs | Magnets | Clocks | Tote Bags | Framed Tiles | Notebooks | Postcards | Light Switch Covers | Tile Coasters | Calendars | Butterfly Calendars | Resources | Contact | Blog |
[old blog] |


© 2003 - 2023 ButterflyGardeningAndConservation.com

Today is: 27 September 2023, 9:29 am