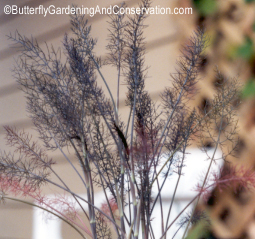 Bronze fennel.
Fennel is an herb that can grow to a height of 30 in. or more. It smells wonderful and can be used in cooking or raw in salads.
Black Swallowtail butterflies use fennel as well as dill, Parsley and other carrot family plants as a host plant.
Where to buy
Most nurseries sell Fennel as a plant in the spring and early summer. It can be grown by seed, but I recommend buying the plant as it takes the seeds a while to germinate. Regular/green Fennel or Bronze fennel either one can be grown for Black Swallowtails. It can even be grown in a pot rather than placing in the ground, although it usually needs a bigger pot that what it is sold in. If trying to grow from seed, it can be bought from Burpee and many other online seed sellers.
The Apiaceae Family
Fennel is a member of the carrot or Apiaceae Family. There are around 300 genera and 3000 species of plants in this family. They are mostly herbs with hollow stems and small flowers. Many important food plants are members of the carrot family. They include carrots, parsnips, celery, cilantro, caraway, anise, Parsley and dill. There are also a few members of this family native to the US which are very poisonous.

Rattlesnake Master (Eryngium yuccifolium), which is a good native nectar source for butterflies is also a member of this family.
Butterfly Gardening Home | Butterfly Gardening Articles | Butterfly Species | Plants | Butterfly and Gardening Shopping | T-shirts | Mugs | Magnets | Clocks | Tote Bags | Framed Tiles | Notebooks | Postcards | Light Switch Covers | Tile Coasters | Calendars | Butterfly Calendars | Resources | Contact | Blog |
[old blog] |


© 2003 - 2023 ButterflyGardeningAndConservation.com

Today is: 27 September 2023, 9:32 am