| Introduction |
| Butterfly Gardening |


Swallowtails
Sulfurs/Whites
Brushfooted
Little
Snout


Host
Nectar



T-shirts
Mugs
Magnets
Clocks
Tote Bags
Framed Tiles
Notebooks
Postcards
Light Switch Covers
Tile Coasters


Books
Web Sites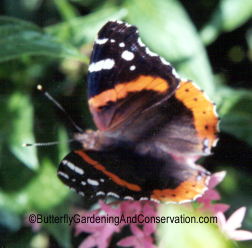 Red Admiral nectaring on Pentas
The Red Admirals is very large, extending throughout all of the US, most of Canada, New Zealand, N. Africa, Eurasia and few other places.

Host plants include: Stinging Nettle (Urtica dioica), False Nettle (Boehmeria cylindrica) and Hops (Humulus Lupulus).

Eggs are light green and laid singly on top of host plant leaves. The small caterpillars make a nest of leaves with silk.

Adults feed on flower nectar, rotting fruit, sap and dung.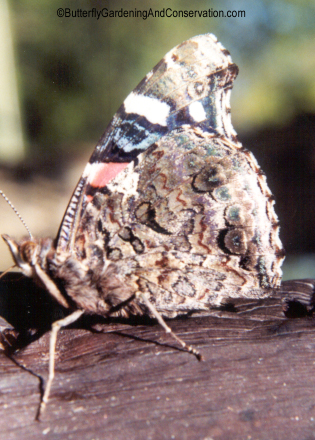 Adult from side, feeding on rotting banana.
| | |
| --- | --- |
| Another view with wings closed. | Wings all the way open, but from a distance. |
Butterfly Gardening Home | Butterfly Gardening Articles | Butterfly Species | Plants | Butterfly and Gardening Shopping | T-shirts | Mugs | Magnets | Clocks | Tote Bags | Framed Tiles | Notebooks | Postcards | Light Switch Covers | Tile Coasters | Calendars | Butterfly Calendars | Resources | Contact | Blog |
[old blog] |


© 2003 - 2023 ButterflyGardeningAndConservation.com

Today is: 27 September 2023, 9:38 am