| Introduction |
| Butterfly Gardening |


Swallowtails
Sulfurs/Whites
Brushfooted
Little
Snout


Host
Nectar



T-shirts
Mugs
Magnets
Clocks
Tote Bags
Framed Tiles
Notebooks
Postcards
Light Switch Covers
Tile Coasters


Books
Web Sites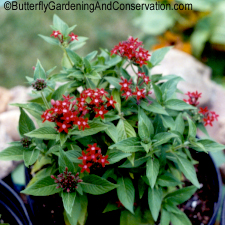 Pentas.
Pentas are not native to most of the US and will not survive the winter, so it is usually grown as an annual in most places. I had difficulty to growin it from seeds.

I no longer grow this plant in my butterfly garden either. Partly because it is an annual that has to be replaced every year. I also didn't have very good luck with it. Maybe I just didn't have it planted in a good spot?
Where to buy Pentas
Most nurseries sell it.
The Rubiaceae Family
Herbs, shrubs and trees with flowers in clusters. 450 genera and 6500 species. Coffee, quinine, gardenia are either from this family or made from members of it.
Butterfly Gardening Home | Butterfly Gardening Articles | Butterfly Species | Plants | Butterfly and Gardening Shopping | T-shirts | Mugs | Magnets | Clocks | Tote Bags | Framed Tiles | Notebooks | Postcards | Light Switch Covers | Tile Coasters | Calendars | Butterfly Calendars | Resources | Contact | Blog |
[old blog] |


© 2003 - 2023 ButterflyGardeningAndConservation.com

Today is: 27 September 2023, 9:37 am