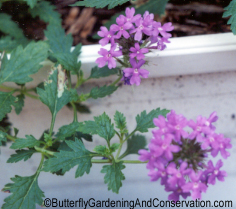 Verbena.
Rose Verbena is native to much of the US and is a perennial that blooms most of the summer. It can grow to about 1.5 feet tall. Homestead Purple is a well known commercial variety sold at many nurseries. Its flowers are more purple in color but it does not withstand cold winters as well in my experience.
Where to buy Verbena
Not the same as the annual verbena sold at most nurseries. Look for one labeled 'perennial'.

All Verbenas are good nectar sources for butterflies though. Nature Hills Nursery sells many different varieties of Verbena on their web site. They also have a plant and seed catalog that you can request.



How to Propagate Verbena
Can be started from cuttings.
The Verbenaceae Family
Verbena is a member of this family consisting of herbs, shrubs or trees. It is made of of 100 genera and 2600 species, most of them in warmer climates. Lantana is a well known member of this family.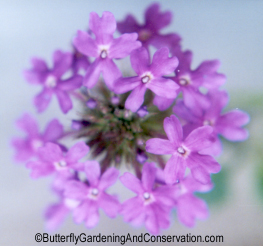 Butterfly Gardening Home | Butterfly Gardening Articles | Butterfly Species | Plants | Butterfly and Gardening Shopping | T-shirts | Mugs | Magnets | Clocks | Tote Bags | Framed Tiles | Notebooks | Postcards | Light Switch Covers | Tile Coasters | Calendars | Butterfly Calendars | Resources | Contact | Blog |
[old blog] |


© 2003 - 2023 ButterflyGardeningAndConservation.com

Today is: 10 June 2023, 5:00 am