| Introduction |
| Butterfly Gardening |


Swallowtails
Sulfurs/Whites
Brushfooted
Little
Snout


Host
Nectar



T-shirts
Mugs
Magnets
Clocks
Tote Bags
Framed Tiles
Notebooks
Postcards
Light Switch Covers
Tile Coasters


Books
Web Sites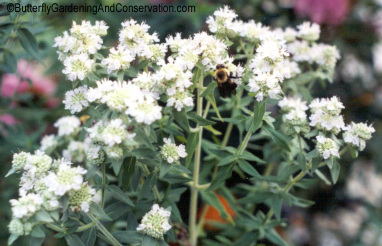 Mountain Mint.
There are many different species of Mountain Mint. They can grow to a height of 3-4 feet.
Where to buy Mountain Mint
Native plant nurseries.
The Lamiaceae/Mint Family
Mountain Mint is a member of the Mint Family. These are mostly herbs or shrubs of 200 genera and 3200 species. Well known members of this family include oregano, marjoram, thyme, sage, basil, catnip, lavender and mint.
Butterfly Gardening Home | Butterfly Gardening Articles | Butterfly Species | Plants | Butterfly and Gardening Shopping | T-shirts | Mugs | Magnets | Clocks | Tote Bags | Framed Tiles | Notebooks | Postcards | Light Switch Covers | Tile Coasters | Calendars | Butterfly Calendars | Resources | Contact | Blog |
[old blog] |


© 2003 - 2023 ButterflyGardeningAndConservation.com

Today is: 28 November 2023, 3:07 pm