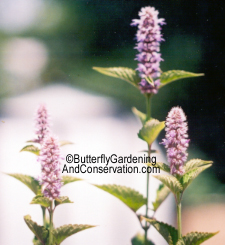 Agastache.
Agastache is a perennial herb with purple flower spikes. Height is 2-3 feet. Seeds germinate in 7-21 days. Good for attracting butterflies, hummingbirds like it too.
Where to buy Agastache
Seeds can be bought from various locations including Burpee.
The Lamiaceae/Mint Family
Agastache is a member of the Mint Family. These are mostly herbs or shrubs of 200 genera and 3200 species. Well known members of this family include oregano, marjoram, thyme, sage, basil, catnip, lavender and mint.
Butterfly Gardening Home | Butterfly Gardening Articles | Butterfly Species | Plants | Butterfly and Gardening Shopping | T-shirts | Mugs | Magnets | Clocks | Tote Bags | Framed Tiles | Notebooks | Postcards | Light Switch Covers | Tile Coasters | Calendars | Butterfly Calendars | Resources | Contact | Blog |
[old blog] |


© 2003 - 2023 ButterflyGardeningAndConservation.com

Today is: 28 November 2023, 3:33 pm