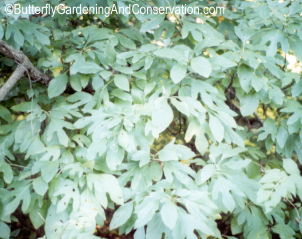 Sassafras.
Sassafras is a small tree or shrub that spreads over time through root suckers. It tends to grow in somewhat shady areas. Roots of Sassafras are used to make Sassafras tea. Leaves and twigs have a nice smell. Native to much of the eastern US. The flowers are yellowish green and bloom in early spring. Also known as Sassafrax variifolium.
Sassafras is a Host Plant for the Spicebush Swallowtail
Spicebush Swallowtails use both Sassafras and Spicebush as a host plant. Spicebush Swallowtail caterpillars are one of the most fascinating caterpillars I've ever seen. Click on the link above to see pictures of both the caterpillar and the adult butterfly.
Where to buy Sassafras
I highly recommend Nature Hills Nursery. The price for one Sassafras tree at the time I'm writing this is $21.95, but could change as the supply available changes.

You can read more information about them at the Nature Hills Nursery site to either order, read more detailed information about about Sassafras or see more detailed pricing information. Or order by calling 1-888-864-7663 using the Source ID: 86642! You can also sign up to have a seed and plant catalog from Nature Hills Nursery mailed to your home to order from also.
How to Propagate Sassafras
Sassafras is difficult to grow from seed, and cuttings don't grow either (I know, I tried!). It is best to buy this plant from professionals who know how to propagate it.
The Laurel Family
Sassafras is a member of the Laurel Family which consists of mostly large trees and a few shrubs. Avocados, bay leaves and cinnamon are produced from members of this family.
Additional Pictures
| | |
| --- | --- |
| Close up of Sassafras leaf. | Sassafras from a distance, in the fall. |
Butterfly Gardening Home | Butterfly Gardening Articles | Butterfly Species | Plants | Butterfly and Gardening Shopping | T-shirts | Mugs | Magnets | Clocks | Tote Bags | Framed Tiles | Notebooks | Postcards | Light Switch Covers | Tile Coasters | Calendars | Butterfly Calendars | Resources | Contact | Blog |
[old blog] |


© 2003 - 2023 ButterflyGardeningAndConservation.com

Today is: 27 September 2023, 9:58 am