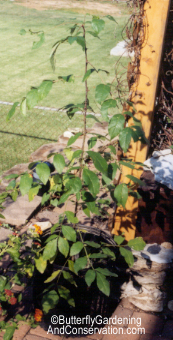 Prickly Ash growing in a pot.
Prickly Ash, also known as a 'tooth-ache tree', is a shrub with many branches. It is a member of the Citrus family and has small spines or thorns along its branches. It is native to the US and can be found in many places in the east and midwest.
Prickly Ash and Hop Trees are the preferred hosts for Giant Swallowtails in the much of the US. In southern states it may prefer commercial citrus trees, Wild Lime or Hercules-club. They may also use the citrus herb, Rue (Ruta graveolens)
Where to buy
(Coming soon!)
The Citrus/Rutaceae Family
There are about 12 native species of the Citrus Family (Rutaceae) in N. America. Most members of the family are shrubs and trees and rarely herbs. Rue (Ruta graveolens) is one example of a Citrus family herb.
| | |
| --- | --- |
| Close-up of Prickly Ash leaves. | Close-up of thorns. |
Butterfly Gardening Home | Butterfly Gardening Articles | Butterfly Species | Plants | Butterfly and Gardening Shopping | T-shirts | Mugs | Magnets | Clocks | Tote Bags | Framed Tiles | Notebooks | Postcards | Light Switch Covers | Tile Coasters | Calendars | Butterfly Calendars | Resources | Contact | Blog |
[old blog] |


© 2003 - 2023 ButterflyGardeningAndConservation.com

Today is: 27 September 2023, 9:22 am