| Introduction |
| Butterfly Gardening |


Swallowtails
Sulfurs/Whites
Brushfooted
Little
Snout


Host
Nectar



T-shirts
Mugs
Magnets
Clocks
Tote Bags
Framed Tiles
Notebooks
Postcards
Light Switch Covers
Tile Coasters


Books
Web Sites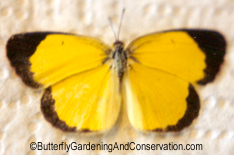 Adult Little Sulfur with wings open.
The Little Sulfur is a small yellow butterfly with a wingspan of around 4 cm or so. They can be found almost all year in the south eastern US and migrate to most of the east and somewhat to the west in the summer.

Host plants include Cassia fasciculata (Partridge Pea), occidentalis and nicitans and Senna/Cassia marilandica (Wild Senna).

Their eggs are light green and laid singly on the upper side of the host plants.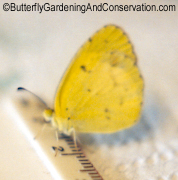 Adult with wings closed.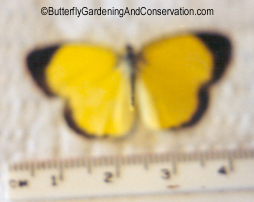 This picture is out of focus, but I thought it might still be of interest because of the ruler to help with the size perspective.
Butterfly Gardening Home | Butterfly Gardening Articles | Butterfly Species | Plants | Butterfly and Gardening Shopping | T-shirts | Mugs | Magnets | Clocks | Tote Bags | Framed Tiles | Notebooks | Postcards | Light Switch Covers | Tile Coasters | Calendars | Butterfly Calendars | Resources | Contact | Blog |
[old blog] |


© 2003 - 2023 ButterflyGardeningAndConservation.com

Today is: 28 November 2023, 4:29 pm