| Introduction |
| Butterfly Gardening |


Swallowtails
Sulfurs/Whites
Brushfooted
Little
Snout


Host
Nectar



T-shirts
Mugs
Magnets
Clocks
Tote Bags
Framed Tiles
Notebooks
Postcards
Light Switch Covers
Tile Coasters


Books
Web Sites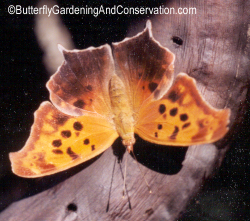 Question Mark (summer form)
adult feeding on banana.
Range is all eastern US, southern Canada, Mexico. Wingspan is 6-7 cm.

Host plants include Elm trees, Hackberry trees (Celtis occidentalis), False Nettle (Boehmeria cylindrica), Stinging Nettle (Urtica dioica) and Hops (Humulus Lupulus).

Egg light green and laid singly or in a group on underside of host plant leaves.

Adults feed on sap, rotting fruit, carrion and rarely flowers. Easy to attract to hanging rotting bananas.

There are both summer and fall forms of Question Marks. Summer form has darker back wings and 'tails' on back wings are shorter than fall form. Adults hibernate, but will come out and feed almost any time of year on warm days.

Question Marks are named after the silver/white marks on the outsides of their wings.
| | |
| --- | --- |
| View from side, red box shows close-up of 'question mark'. | Close up of adult feeding on banana. |
| | |
| --- | --- |
| Adult, wings open, fall form. (compare back wings to picture at top. | Adult with wings open, from a distance. |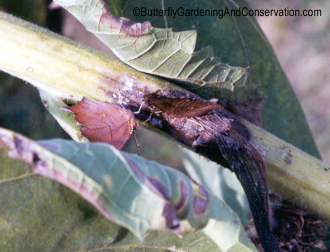 Question Mark and Comma feeding from rotting stem of sunflower.
Butterfly Gardening Home | Butterfly Gardening Articles | Butterfly Species | Plants | Butterfly and Gardening Shopping | T-shirts | Mugs | Magnets | Clocks | Tote Bags | Framed Tiles | Notebooks | Postcards | Light Switch Covers | Tile Coasters | Calendars | Butterfly Calendars | Resources | Contact | Blog |
[old blog] |


© 2003 - 2023 ButterflyGardeningAndConservation.com

Today is: 27 September 2023, 8:04 am