| Introduction |
| Butterfly Gardening |


Swallowtails
Sulfurs/Whites
Brushfooted
Little
Snout


Host
Nectar



T-shirts
Mugs
Magnets
Clocks
Tote Bags
Framed Tiles
Notebooks
Postcards
Light Switch Covers
Tile Coasters


Books
Web Sites


>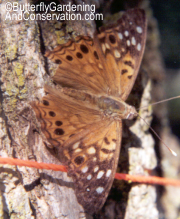 Hackberry butterfly
sunning itself
on side of tree.
The Hackberry butterfly can be found throughout most of the southern and eastern US. Its host plants are all in the Hackberry tree family:
Celtis occidentalis,
Celtis reticulata,
Celtis laevigata,
Celtis tenuifolia,
Celtis lindheimeri and
Celtis pallida.

Its eggs are light greenish in color, laid singly or in small groups on the host plants.

Adults feed on flower nectar, rotting fruit, carrion and dung. In my garden I have only seen then feeding on rotting bananas, never flowers.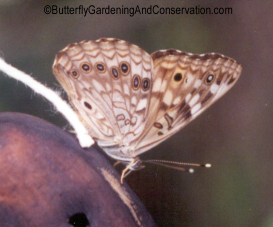 Hackberry from side feeding on banana.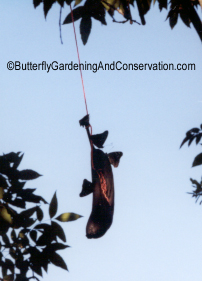 Three Hackberry butterflies feeding on banana.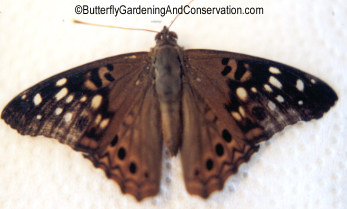 Hackberry with wings open. Picture is dark, but wings intact.
Butterfly Gardening Home | Butterfly Gardening Articles | Butterfly Species | Plants | Butterfly and Gardening Shopping | T-shirts | Mugs | Magnets | Clocks | Tote Bags | Framed Tiles | Notebooks | Postcards | Light Switch Covers | Tile Coasters | Calendars | Butterfly Calendars | Resources | Contact | Blog |
[old blog] |


© 2003 - 2023 ButterflyGardeningAndConservation.com

Today is: 28 November 2023, 3:53 pm